Enjoy a cup of coffee and some art, grab a quick bite before a movie or a show, or simply hang out with friends.
If you're in the mood to treat yourself or someone special, our on-site shop is the perfect place to find some inspiring gifts.
Café
Our menu has something for everyone, with hot food, salads, snacks, and cakes. Our kitchen team is committed to using sustainable practices to ensure that everything tastes great. We also offer vegetarian, vegan, and gluten-free options to accommodate different dietary needs.
We're passionate about serving food that comes from Welsh-based, local and ethical sources. We proudly serve Coaltown Coffee, a Welsh business that's been certified as a B-Corp, which means they meet high standards for social and environmental performance. Some of our other suppliers include Rachel's, Welsh Hills Relishes, and Tiny Rebel Brewery.
Our sandwich packaging, coffee cups and pint glasses are all compostable.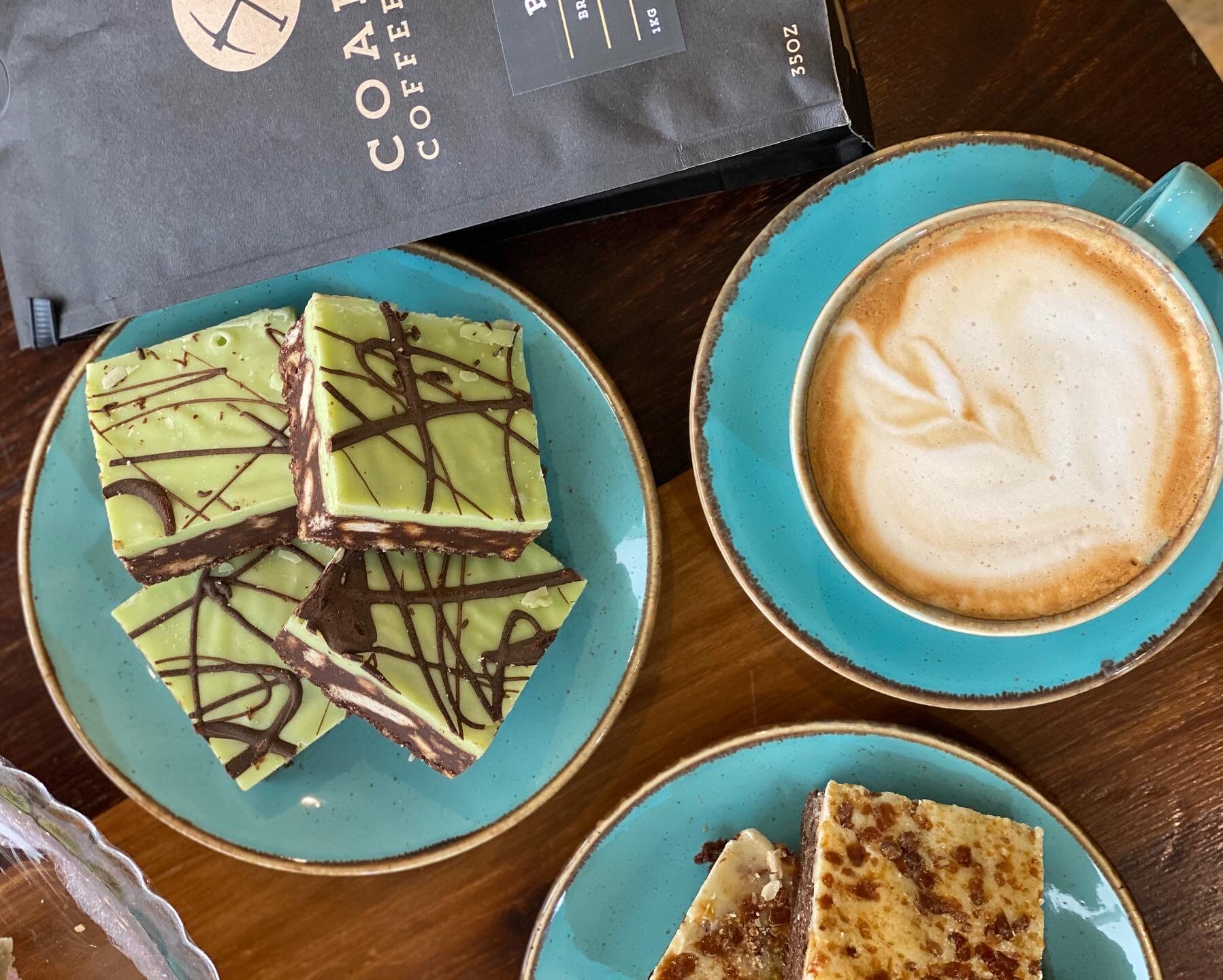 Monday - Friday
9am - 8pm
---
---
Sustainable, ethical and proudly Welsh
We have three main principles for our cafés and bars: where the food comes from, being environmentally friendly, and putting people first. We're responsible and want to help our local community by working with partners near the Arts Centre. We donate our leftover sandwiches to the Wallich homeless shelter and participate in the 'Too Good To Go' scheme, which is an app that sells unsold food at a discount to avoid waste.
Theatre Bar
You'll find our Theatre Bar on the upper level of the Arts Centre. Our bright and spacious atmosphere has plenty of seating and is the perfect place to relax, or meet friends before a show.
Bar opening times
One hour before shows and events
Beat the bar queue by pre-ordering your interval drinks
Order drinks before your show starts and they'll be ready for you during the interval.
We also want to let you know about a new service we've introduced to help improve your experience ordering your favourite interval refreshments. It's called The Vine, and it's an easy-to-use online ordering platform for all your favourite drinks and snacks. 
When the bar isn't open, you can still enjoy the space – it's great for taking time out. Food and drink orders can be placed using The Vine (Monday – Saturday, 9:30am – 9:30pm) and will be delivered to your table.
Hire our Theatre Bar for private events
For more information, contact Sarah Hughes.
Shop
Discover the fun, quirky and innovative
If you're looking to find one-of-a-kind, beautiful items for your home or as a gift for someone special, make time to visit our Craft and Design shop. We have a great selection of ceramics, prints from talented local artists, books, souvenirs from Aberystwyth, as well as contemporary homeware, stationery, cards, and jewellery. Treat yourself!
Shop opening hours
Monday – Saturday: 10am – 8pm
Sunday: 12pm – 5pm
You can get in touch with our Shop by emailing aberartshop@aber.ac.uk